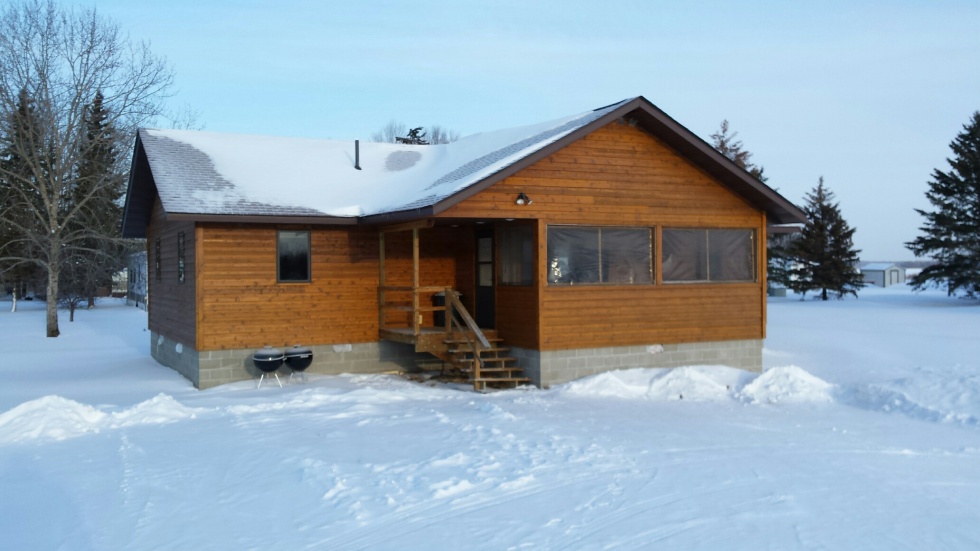 Welcome to Fort Tongas cabin in Lake of the Woods MN! Named for a boat once owned by Jake Colson, it has four bedrooms and 2 bathrooms, and can accommodate your group of up to 12 people.
Rental Amenities
All of our cabin rentals are furnished with a screened porch, flat screen TV with Dish TV, air-conditioning, heat, full baths, a kitchen, and Weber barbecues.
The kitchens come equipped with a refrigerator, stove, microwave, Bunn coffeemaker, cooking utensils, dishes, flatware, pots and pans, coffee filters, towels and garbage bags.
Our bedrooms are furnished with comfortable beds; line dried (in season) and ironed sheets, bedding, towels, ceiling fans, luggage racks and alarm clocks. The bathrooms have a full shower, linens and soap.
Included in the price of any of our Lake of the Woods cabin rentals is enough boat mooring to accommodate your group, right out in front of your cabin.
Four bedrooms, 2 bathrooms, screen porch, maximum occupancy 12 people. Click here to view floor plan.
Cabin Rates
$360/night up to 6 people, $60 each additional person per night, minimum two night stay
Weekly rate – 7th night free
Check-In after 3:30 pm Check-Out before 10:30 am
EARLY CHECK-IN: If you arrive early and want to fish, you may leave your vehicle and trailer in the parking lot. For access to the cabin, including the porch, parking in front, docks and any other facilities normally associated with the cabin, the hourly fee will be $20 per hour prior to 3:30 pm.
Special Offer – Fill a big cabin, we charge for one less! Ask for details.
Click here to browse our other accommodations.
*ADVANCE DEPOSIT REQUIRED*
We require 1/3 of your reservation, to guarantee your dates, within two weeks of making the reservation, unless other arrangements have been made.
Cancellation Policy: Please be sure your vacation dates are firm before confirming your reservation as your deposit can only be refunded if cancellation is received 30 days prior to confirmed arrival date. All refunds and transfers are subject to a $25 service charge. No refunds will be given for days lost through early departure or late arrival. Last minute cancellations result in vacancies for us; therefore our policy is firm.
Fort Tongas
Available
Booked
Special Offer